BOTANICAL GARDEN | RITA MOOKERJEE
for Christina

Spending eternity in anything
is a big decision and I don't belong in a wooden box

or a modest urn. I want a deathbed that is alien in its shape
obscene in its beauty, opulent and libertine

so I fold myself up inside of a tiger orchid
fall prey to her tendrils, her pulse

then I twist into a sprig of lavender
a willful seduction: its downy buds murmuring their promise of sleep.

I hang like a fruit bat within wisteria
sorrowful plumes creep down my back and into my hair

I'll tuck myself away in many
flowers: lady's slipper, labyrinth of peony

buttery womb of a daffodil.
I can be nectar and petal and stamen and pollen.

At night, I rest in the mouth of a snapdragon
its velvety locked jaw

lost in the botanical garden
the way I wanted to be.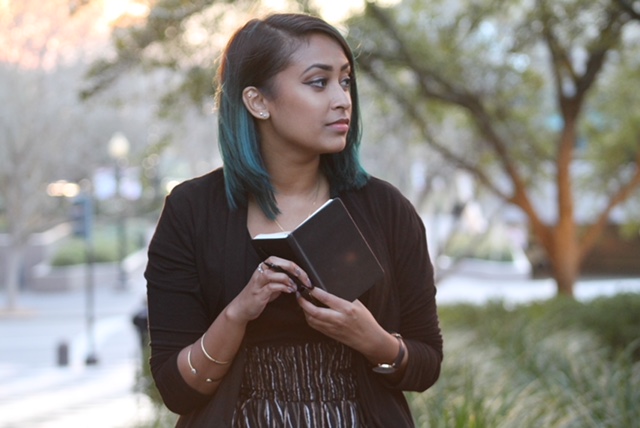 Rita Mookerjee's poetry is featured or forthcoming in Lavender Review, Sorority Mansion Review, and Spider Mirror Journal. Her critical work has been featured in the Routledge Companion of Literature and Food, the Bloomsbury Handbook to Literary and Cultural Theory, and the Bloomsbury Handbook of Twenty-First Century Feminist Theory. She currently teaches ethnic minority fiction and women's literature at Florida State University where she is a PhD candidate specializing in contemporary Caribbean literature with a focus on queer theory. Her current research deals with the fiction of Edwidge Danticat.
Cover image by Tyler Brewington: closeup of mineral deposit in Lava Hot Springs, Idaho.